Restaurant Supply Store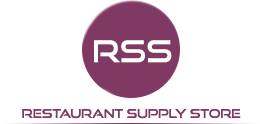 Next Day Delivery Available
Over 32,000 Products Available
UK Delivery From £6.95 + VAT
FAQ
WHAT ARE YOUR DELIVERY COSTS FOR MY RESTAURANT SUPPLIES?
No one likes paying delivery costs, so we endeavour to keep these to an absolute minimum. Orders over £100.00 Nett are carriage free, and we charge a small amount of carriage for orders under this amount (UK Mainland). For further details, please see our Delivery Information page.

CAN I USE A DIFFERENT DELIVERY ADDRESS TO THE INVOICE ADDRESS - FOR EXAMPLE HAVING MY TOILETRIES DELIVERED TO THE HOTEL HOUSEKEEPING TEAM BUT THE INVOICE TO HEAD OFFICE?
Yes you can. We understand that you may wish to use different delivery and invoice addresses so you can manage your account to have a selection of addresses.

WHEN WILL MY RESTAURANT SUPPLIES BE DELIVERED?
Depending on stock availability, we aim to dispatch all orders within 48 hours using a 24 hour delivery service. If your order is extremely urgent, please contact us to let us know as soon as possible.

WHAT DO I DO IF MY RESTAURANT SUPPLIES DO NOT ARRIVE?
Please call our Customer Service Team on 01375 651 600 and we will resolve this issue for you.

WHAT IF ONLY SOME OF MY RESTAURANT SUPPLIES ARRIVE?
If you have ordered multiple products, then it may be the case that certain items are dispatched from different warehouses. If this is the case, then you will receive some items in separate deliveries. If any item that you ordered is out of stock, we will notify you of this and the item will be placed on back order, to be delivered as quickly as possible.

WHAT IF MY RESTAURANT SUPPLIES ARRIVE DAMAGED?
Please call our Customer Service Team on 01375 651 600 to let us know that this is the case. Claims for damaged goods be must be notified within 24 hours of receipt.

I HAVE RECEIVED MY ORDER BUT ONE OF MY ITEMS IS MISSING/INCORRECT. WHAT DO I DO?
Please call our Customer Service Team on 01375 651 600 who will assist you in this matter.

PRICING & PAYMENT FOR MY HOTEL SUPPLIES
IS VAT INCLUDED IN YOUR PRICING?
The prices shown do not include VAT; this will be detailed and added when you proceed to the Checkout.

HELP ORDERING MY HOTEL SUPPLIES AND AMENITIES WHAT DO I DO IF THERE IS A PROBLEM PROCESSING MY ORDER?
Please call our Customer Service Team on 01375 651 600.

I AM HAVING PROBLEMS NAVIGATING YOUR RESTAURANT SUPPLIES STORE / I AM EXPERIENCING TECHNICAL PROBLEMS. WHAT SHOULD I DO?
The How to Use Our Site page is designed to make navigating the website and order process as easy as possible. However, if you require any further assistance please do not hesitate to Contact Us.

WHAT IF I FORGET MY PASSWORD?
If you have forgotten your password then you will be able to recover it using the email address you registered with. Go to My Account and click on 'Forgotten your password?'. Once you are logged in you can change your password on the Change Details page.

RESTAURANT SUPPLIES ORDER PROCESSING WHAT DO I DO IF THERE IS A PROBLEM PROCESSING MY ORDER?

Please call our Customer Service Team on 01375 651 600
WILL I RECEIVE AN ORDER ACKNOWLEDGEMENT EMAIL FOR MY RESTAURANT SUPPLIES?
Yes, shortly after you have placed your order, an Order Acknowledgement will be sent to the email address you specified when setting up your account.

CAN I CANCEL MY ORDER?
We may be able to cancel your order but you can only do this by telephone. Please let us know as soon as possible after you have placed your order in order to cancel before your goods are dispatched.

YOU CONFIRMED MY ORDER BUT I HAVE NOW HAD AN EMAIL SAYING ONE OR MORE ITEMS ARE OUT OF STOCK. WHY IS THIS?
Our website will generate an email confirming that we have received your order however when physically checking the available stock, we may have found that we do not have the required quantity to complete your order.

WHAT IS A SAVED BASKET AND HOW DO I LOAD A SAVED BASKET OF RESTAURANT SUPPLIES?
Every time you add products to the basket, you can save the contents and name that basket, making it easier to place the same order again. There is no limit to the number of baskets you can save and these can easily be uploaded next time via the My Account page, selecting 'Load' on the Saved Basket you wish to use. You will need to have an account to use this facility.

WHAT IS THE MAILING LIST?
By signing up to the mailing list, you will receive information on our new products and special offers. You will be sent an email requiring you to click a link to confirm your wish to join the mailing list.