Restaurant Supply Store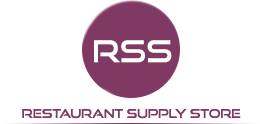 Next Day Delivery Available
Over 32,000 Products Available
UK Delivery From £6.95 + VAT
Fiesta Green
Working towards a sustainable future for all is becoming an increasingly important target. The Fiesta Green range has this goal of sustainability at its core, with a large selection of biodegradable catering disposables which aid in reducing the environmental impact of the catering industry. Fiesta Green's cost effective and eco-friendly straws, cups and packaging products are made from plant-based materials thus lessening the amount of waste sent to landfill. Restaurants are responsible for 915,400 tonnes of waste each year, Pubs produce 873,800 tonnes and waste from Hotels each year totals 289,700 tonnes. Switching to eco-friendly alternatives like the Fiesta Green range will reduce your carbon footprint and demonstrate your commitment to sustainability, something which is extremely important to a modern day consumer.
Packaging
Fiesta Green's food packaging is made from renewable bamboo, PLA, birch wood and sugarcane to give you highly sustainable takeaway alternatives to polystyrene. Polystyrene is not biodegradable and it could take up to 1 million years before the process of decomposition even begins. Given the time it takes for these materials to break down, moving away from materials that contribute to environmental destruction is becoming increasingly important
Bamboo, PLA, Birch Wood and sugarcane packaging is not just great for the environment but this biodegradable and compostable packaging is also strong and practical, perfect for serving a variety of hot and cold dishes. These products are ideal for mobile caterers to use at large events such as festivals, weddings and food markets.
Tableware
When serving out of a box or cone won't do, we have a choice of eco-friendly plates and bowls made from carbon-saving materials. From palm leaf plates to bowls made from recycled sugarcane, this range gives you the perfect tableware to serve your dishes in a way that's kinder to the planet. Palm leaf is a great choice for a sustainably minded business, palm leaf decomposes at an accelerated rate in comparison to other materials traditionally used to produce single use disposables.
Unlike polystyrene and plastic, sugarcane is fully biodegradable taking a maximum of 60 days to decompose, this means that by choosing this more eco-firefly material you lessen your impact on the environment significantly. These eco-friendly plates and bowls can be paired with the Fiesta Green biodegradable or compostable forks, knives and spoons for a fully sustainable dining experience.
Why Eco-Friendly?
The potential for damage to the environment from food service is huge. The amount of effort you put into negating that impact matters. Why? It's because your customers expect it. In fact, increasing numbers of consumers will only offer their loyalty to brands and businesses that act in a responsible manner. A recent survey found that up to 65% of modern consumers said they preferred put their money into businesses that advocate sustainability over those who did not. The modern day customer places high importance on how eco-friendly a brand is thus your business must follow this and make choices to increase the sustainability of your business. Many within both the millennial and generation Z demographic are becoming increasingly conscious about their impact on the environment, there is no doubt attitudes towards sustainability are changing fast and the catering and hospitality industry must take the steps to keep up with this. Fiesta Green helps you make small changes today at minimal extra cost, can you afford not too? Restaurants are responsible for 915,400 tonnes of waste each year, Pubs produce 873,800 tonnes and waste from Hotels each year totals 289,700 tonnes. The catering and hospitality industry hosts a large carbon footprint in addition to a large amount of waste sent to landfill each year, it is therefore the responsibility of businesses in this sector to reduce their impact on the environment in order to move forward creating a sustainable future for all.
Eco-Friendly Cups
We currently use around 7 million disposable coffee cups every day in the UK, it is imperative that we take steps to reduce the amount that end up at landfill. Traditional plastic cups and lids have a significant impact on the environment, an impact which the modern day consumer is becoming increasingly conscious of. With many within the millennial and generation Z demographic opting for eco-friendly alternatives to the plastic cup, there is no doubt attitudes towards sustainability and environmentalism are changing fast and business must take steps to keep up with this. Our eco-friendly Fiesta Green compostable cups and lids are made from plant-based alternatives to plastic. They can be broken down and give back to the Earth as nutrient-rich soil in as little as 12 weeks. The use of premium paper and PLA lining also makes these cups incredibly sturdy and functional.
PLA-Lined Hot Cups and PLA Cold Cups
PLA is an eco-friendly alternative to the plastic cup, which are just as practical and sturdy but do not compromise the environment. Plastic takes at least 1000 years to begin to decompose making it environmental impact extremely detrimental to creating a sustainable future. These Fiesta Green PLA-lined Hot Cups are perfect for espressos, lattes, cappuccinos, hot chocolates and any other hot beverage you may wish to serve. Our PLA Cols cups keep customers refreshed without costing the earth, they are available in a selection of sizes. Find the green serving solution for all of your hot beverages from this range of commercially compostable, PLA-lined hot cups and PLA Cold Cups.
Plastic-Free Hot Cups
There is no doubt that plastic and in particular single use plastic disposables have a significantly detrimental effect on the planet. Forty percent of the plastic we produce is used just once and then thrown away, creating a growing amount of plastic pollution across the globe. Sustainable waste disposal is made simple with these plastic-free hot cups. Certified compostable and widely accepted for recycling too, these double-wall hot cups are the ultimate eco choice for the modern-day caterer.
Eco-friendly straws, plant-based straws and paper straws
As a large majority of todays generation becoming aware of the detrimental effects that our excessive consumption of single use plastic is having in the environment, the appetite for plastic straws is in decline. Over the last few years we have seen many big multi-national companies pledge to replace plastic. Almost 8 million tonnes of plastic are dumped in our oceans each and every year, if this continues at the same rate there will be more plastic than there are fish in our seas by 2050. The Fiesta Green range offers plant based straws made from plant based CPLA, a perfect replacement for traditional plastic as these straws look, feel and act in the same way that a plastic straw would, however, they break down into nutrient-rich compost when disposed of in the correct facilities. Our CPLA straws are a like-for-like eco-friendly alternative to the plastic straw. Our paper straws, crafted from the highest quality material, are colourful and compostable, a great choice for any eco-conscious caterer. Within our range you can find a paper straw to suit your entire drinks menu.