Restaurant Supply Store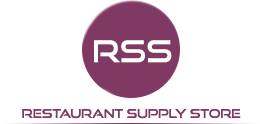 Next Day Delivery Available
Over 32,000 Products Available
UK Delivery From £6.95 + VAT
True

True Refrigeration products are designed to promote energy and environmental consciousness as well as meeting high standards of food safety and quality.
The value of maintaining consistent food safe temperatures within kitchen environments, is at the core of the design of all True products. True provide products which are both of a high standard as well energy efficient. All True products are backed by a comprehensive 5 years parts and labour warranty at no additional cost.
For the above reasons, True is the refrigeration supplier favoured by many global foodservice and hospitality brands.
PEACE OF MIND
All True Products supplied into mainland Europe and UK are covered, as standard, by an industry-leading 5 Years Parts & Labour Warranty. True provide premier after-sale support, for guaranteed peace of mind. A network of service partners in all regions where equipment is supplied allows True to provide a faster, more local service, and minimise downtime for buyers.
LITERATURE
Browse our selection of True brochures
REDUCING ENERGY CONSUMPTION
Building a better tomorrow
Today, sustainability and environmental consciousness is at the fore-front of many conversations within businesses. Every serious operator has targets including energy management programmes to reduce wastage, which is why True refrigeration is such as favourable brand. Switching to the latest and most energy efficient equipment it is actually profitable in the long term, as it reduces energy costs.
True can help you achieve targets to reduce energy consumption, save money, and supply you with a better, more reliable refrigeration products.
As a leader in commercial refrigeration, True is committed to replacing dangerous substances with eco-friendly alternatives. Instead of the use of harmful and toxic refrigerants, True use Hydrocarbon (HC) refrigerants. Hydrocarbons are natural and non-toxic gases that have no o- zone depleting properties and do not contribute to global warming in the same why many other refrigerants do.
True are the front-runners in providing eco-friendly and sustainable commercial refrigeration products. It is important for business to begin switching to more energy efficient ways of working as governing bodies are increasingly introducing laws and business regulations in attempt to halt the catastrophic effects of climate change, o-zone depletion and excessive use of energy and fossil fuel. With single use plastic straws and stirrers being banned across business in the UK, it seems fair to assume similar laws limiting energy consumption could follow. Many refrigeration products have grievous effects on the atmosphere and o-zone layer. The Ozone protects the earth from the harmful and warming effects of UV rays form the sun, acting as a barrier between the atmosphere and earths surface. With organisations such as NASA and National Geographic consistently reporting the severe ramifications human activity is having on the environment, it perhaps more important now than ever before that businesses start taking responsibility for their impact on the environment and managing their carbon footprint.