NEXT DAY DELIVERY Available
Over 32,000 products
UK DELIVERY FROM £6.95+VAT
What Is The Difference Between Boning Knives & Fillet Knives
1 Sep 2020, 12:39 PM
What is the difference between


Boning Knives
&
Fillet Knives?
Having the right kind of kitchen equipment is essential if you run an establishment which serves food. Making sure that your cafe, hotel or restaurant has the right kit will ensure any food you prepare is done to the highest standards. On the other hand, not investing in key kitchen equipment will seriously hamper your ability to produce top-notch dishes.
‍
Professional kitchen knives are one of the most crucial things you can buy for your kitchen. When you start to look at buying what you need though, you will soon find there is a huge range of different knives with specific purposes. Ensuring you understand what job each knife is meant for is critical when preparing the best food to serve. It will not only give better results but quicker results as well.
‍
Two of the most commonly used knives in any commercial kitchen are boning and fillet knives. They look very similar though which often makes people ask what the difference is between the two.‍

Boning Knife 101

Let's start with boning knives and what they are used for usually. This knife is mainly used to remove meat from the bone when preparing food. A boning knife normally has a thicker, stiffer blade than a fillet knife and is straighter. They normally measure around 7 inches in length. As they tend to be sturdier and thicker than fillet knives, it makes deboning meat like pork with them a lot easier. Boning knives are one of the smaller knives found in a professional kitchen which makes them simple to handle and manoeuvre.‍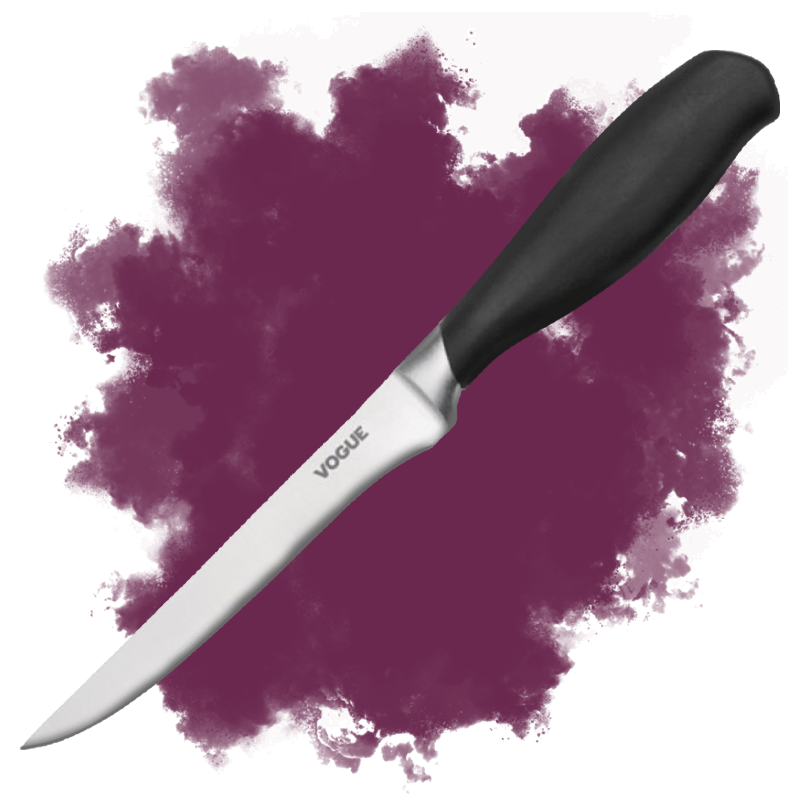 Fillet knife 101

A fillet knife, on the other hand, is normally used to prepare only fish in a kitchen. This is the main difference between the two knives. Fillet knives tend to be thinner and more flexible than boning knives as well. This allows you to work with more delicate fish and not damage the flesh. The blade on a fillet knife measures between 5 and 9 inches while also being curved upward slightly. This kind of knife is great for precise cutting and is also very easy to handle. The blade on a fillet knife is delicate though so be careful not to exert too much force when using it.
‍
Here at the Restaurant Supply Store, we have a selection of boning and fillet knives to choose from. With top names like Chef Works and Victorinox in stock, our boning knives are made from stainless steel for easy cleaning and long-lasting performance. With handles in a variety of colours to help with colour coding your kitchen equipment and an easy-grip design, our boning knives are sure to impress.
‍
The fillet knives we can supply are also worth checking out. Offering fabulous value for money, they come in a range of blade lengths so you can find the perfect one to use. With knives from big-name brands like Daglon Sabatier and Hygiplas to choose from, their flexible blades offer the best in precision cutting.‍

Browse the full selection of professional kitchen knives we carry today.